Bharati Vidyapeeth Loknete Mohanrao Kadam College of Agriculture Admission-Fees Structure-Cut Off. Call us @ 9326025948
Loknete Mohanrao Kadam College of Agriculture, Hingangaon (Kadegaon)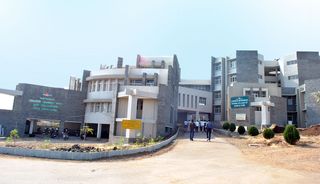 Bharati Vidyapeeth has started Loknete Mohanrao Kadam College of Agriculture at Sonsal-Hingangaon Tal.Kadegaon Dist. Sangli in Septeber 2003 under the affiliation of Mahatma Phule Krishi Vidyapeeth, Rahuri Dist. Ahmednagar.The objectives behind starting this College was to provide opportunities of Degree courses in Agriculture to the students of this region and to make available recent technologies of agriculture to the farmers of this localitiy through extension programms.
Achievments
100% Results consistently from last 4 years with majority of students passed with Distinction and first class. Selection of Student University team in the events of Kabbadi, Kho-Kho etc.
Salient features
Appreciated college by ICAR and MPKV as well as YCMOU evaluation committees.
Multi-storied building with 3 wings.
Well equipped class rooms and laboratories.
College farm of 100 acre Area having different projects-Green house meteorological observatory, sericulture unit fruit and different crops etc.
Separate and well equipped hostels for boys and girls.
Library enriched with 4000 books and internet section.
Career guidance and placement cell.
Organization of extension programms like Agricultural exhibition, study tour, training, field visit etc.
Admissions
How to apply
The annual common admission procedure is implemented through Maharashtra Knowledge Corporation Ltd. (MKCL) Pune through online admission system under the control of Maharashtra Council for Agril. Education and Research (MCAER) Pune.

The candidates seeking admissions should submit only one application form to the MKCL Pune (online)for details please refer the websites - (a) MKCL/Agri (b) Maharashtra Council of Agricultural Education and Research, Pune
No. of seats
The college has original intake capacity of 60 students & additional division of 60 students is allotted because of best performance after accredition by M.P.K.V., Rahuri.
Eligibility criteria
The students secking admission to B.Sc.(Agri.) degree programme should be XIIth std. (Science) passed in 10+2 pattern of Maharashtra State Board of higher Education. The 'B' group is essential criteria. (i.e.Biology)
Fees Structure
As per rules described by MPKV University for non-aided college.
Tag:-B.sc Agriculture Private College in Maharastra, B.sc Agriculture Private College in Mumbai, B.sc Agriculture Private College in Pune, B.sc Agriculture Private College in India,List Of B.sc Agriculture Private College in Maharastra, Admission for B.sc Agriculture in Bharati Vidyapeeth Loknete Mohanrao Kadam College of Agriculture, Admission in Bharati Vidyapeeth Loknete Mohanrao Kadam College of Agriculture, Admission in Bharati Vidyapeeth Loknete Mohanrao Kadam College of Agriculture for B.sc Agriculture Through Entrance Exam , Admission in Bharati Vidyapeeth Loknete Mohanrao Kadam College of Agriculture for B.sc Agriculture Through Management Quota , Admission in Bharati Vidyapeeth Loknete Mohanrao Kadam College of Agriculturet hrough Management Quota , Admission in Bharati Vidyapeeth Loknete Mohanrao Kadam College of Agriculture through Management Quota Directly , Admission in Bharati Vidyapeeth Loknete Mohanrao Kadam College of Agriculture through NRI Management Quota , Admission in Top 10 B.sc Agriculture Colleges in Pune , B.sc Agriculture Admission in Bharati Vidyapeeth Loknete Mohanrao Kadam College of Agriculture, B.sc Agriculture Admission in Bharati Vidyapeeth Loknete Mohanrao Kadam College of Agriculture Through Management Quota , B.sc Agriculture Cut off in Bharati Vidyapeeth Loknete Mohanrao Kadam College of Agriculture, B.sc Agriculture Direct Admission in Bharati Vidyapeeth Loknete Mohanrao Kadam College of Agriculture, B.sc Agriculture Direct Admission in Bharati Vidyapeeth Loknete Mohanrao Kadam College of AgricultureThrough Management Quota , B.sc Agriculture Direct Management Quota Admission in Bharati Vidyapeeth Loknete Mohanrao Kadam College of Agriculture, B.sc Agriculture Fee Structure in Bharati Vidyapeeth Loknete Mohanrao Kadam College of Agriculture, B.sc Agriculture Management Quota Admission in Bharati Vidyapeeth Loknete Mohanrao Kadam College of Agriculture, B.sc Agriculture Seat Intake in Bharati Vidyapeeth Loknete Mohanrao Kadam College of Agriculture, Direct Admission for B.sc Agriculture in Bharati Vidyapeeth Loknete Mohanrao Kadam College of Agriculture, Direct Admission for B.sc Agriculture in Bharati Vidyapeeth Loknete Mohanrao Kadam College of AgricultureThrough Management Quota , Direct Admission for B.sc Agriculture Through Management Quota in Bharati Vidyapeeth Loknete Mohanrao Kadam College of Agriculture, Direct Admission for B.sc Agriculture Colleges in Pune, Direct Admission for B.sc Agriculture Colleges in Pune Through Management Quota , Direct Admission in Bharati Vidyapeeth Loknete Mohanrao Kadam College of Agriculture B.sc Agriculture, Direct Admission in Bharati Vidyapeeth Loknete Mohanrao Kadam College of Agriculture for B.sc Agriculture, Direct Admission in Top 10 B.sc Agriculture Colleges in Pune Through Management Quota , Direct Admission Through Management Quota for B.sc Agriculture in Bharati Vidyapeeth Loknete Mohanrao Kadam College of Agriculture, Direct Admission Through Management Quota in Bharati Vidyapeeth Loknete Mohanrao Kadam College of Agriculture for B.sc Agriculture,Direct B.sc Agriculture Admission in Bharati Vidyapeeth Loknete Mohanrao Kadam College of Agriculture, Direct B.sc Agriculture Admission in Bharati Vidyapeeth Loknete Mohanrao Kadam College of Agriculture Through Management Quota , Direct Management Quota Admission for B.sc Agriculture in Bharati Vidyapeeth Loknete Mohanrao Kadam College of Agriculture, Direct Management Quota Admission in Top 10 B.sc Agriculture Colleges in Pune,Eligibility Criteria for B.sc Agriculture in Bharati Vidyapeeth Loknete Mohanrao Kadam College of Agriculture, Management Quota Admission for B.sc Agriculture in Bharati Vidyapeeth Loknete Mohanrao Kadam College of Agriculture, Management Quota Admission for B.SC AGRICULTURE in Pune, Management Quota Admission in B.sc Agriculture, Management Quota Admission in Bharati Vidyapeeth Loknete Mohanrao Kadam College of Agriculture for B.sc Agriculture,Management Quota Admission in Top 10 B.SC AGRICULTUREColleges in Pune, Management Quota Admission Shortlisting at Bharati Vidyapeeth Loknete Mohanrao Kadam College of Agriculture, Management Quota Direct Admission for B.sc Agriculture in Bharati Vidyapeeth Loknete Mohanrao Kadam College of Agriculture, Management Quota Direct Admission For B.SC B.sc Agriculture in Pune , Management Quota Direct Admission in Bharati Vidyapeeth Loknete Mohanrao Kadam College of Agriculture for B.sc Agriculture, Management Quota Direct Admission in Top 10 B.SC AGRICULTUREColleges in Pune, Management Quota Fee Structure for B.sc Agriculture in Bharati Vidyapeeth Loknete Mohanrao Kadam College of Agriculture, Management Quota NRI Seats for B.sc Agriculture in Bharati Vidyapeeth Loknete Mohanrao Kadam College of Agriculture, Management Quota Proccess for B.sc Agriculture Admission in Pune , Management Quota Process for Admission in Bharati Vidyapeeth Loknete Mohanrao Kadam College of Agriculture, Management Quota Process for B.sc Agriculture Admission in Bharati Vidyapeeth Loknete Mohanrao Kadam College of Agriculture, Management Quota Process for Bharati Vidyapeeth Loknete Mohanrao Kadam College of Agriculture Admission , Management Quota Reservation for Admission in Bharati Vidyapeeth Loknete Mohanrao Kadam College of Agriculture, Management Quota Reservation for Bharati Vidyapeeth Loknete Mohanrao Kadam College of Agriculture Admission , Bharati Vidyapeeth Loknete Mohanrao Kadam College of Agriculture,