9372261584@The Oxford Medical College Bangalore MD MS Admission
The Oxford Medical College Hospital and Research Centre Bangalore is one of the famous privately established medical college in Karnataka. It is also popularly known as Oxford Medical College Bangalore situated in Bangalore Karnataka. It was founded in the year 2013. Oxford Medical College is one of the leading Medical College In Karnataka
Oxford Medical College Bangalore is affiliated with Rajiv Gandhi University of Health Sciences and approved by the Medical Council of India (MCI), PCI, BCI, AICTE.
In the article, We are going to share all the essential details Oxford Medical College Bangalore like Facilities, Courses, Admission Guidance, Fee Structure, How to Apply, Eligibility, Cutoff, Result, Counselling, and other details.
BACHELOR OF MEDICINE AND BACHELOR OF SURGERY (M.B.B.S) Course
The College is affliated to the Rajiv Gandhi University of Health Sciences, Karnataka. The duration of the M.B.B.S course is four and half years (9 terms, each of 6 month duration) of academic Study and one year of internship. The course consists of 3 phases. Candidates are admitted to the Pre-Clinical Phase(Phase-I) of one year duration (2 terms) during which they study the subjects of Anatomy, Physiology & Biochemistry. At the end of Phase-1, they appear for the M.B.B.S Phase-I examination of the University. After successfully completing the Pre-Clinical course, the students enter the Para-Clinical Phase (Phase-II) of one & a half year duration(3 terms), during which they study Microbiology, Pharmacology, Pathology & Forensic Medicine. In this phase, the students also learn a part of the clinical subjects. They appear for the Phase-II university examinations at the end of the one and a half years. On successful completion of Phase-II, the students enter Phase-III which is of two years duration, having clinical subjects as part of the study. At the end of one year (2 terms), the students take the Phase-III(Part-1) examinations comprising the subjects E.N.T, Ophthalmology & Community Medicine. At the end of the next one year (the last 2 terms), the student answers the Phase-III (Part-2) examinations comprising the subjects Medicine, Surgery, Obstetrics & Gynaecology, Paediatrics & Orthopaedics. Clinical training in the Hospitals attached to the Institute will commence after the student successfully completes Phase-I & will continue till the end of the course.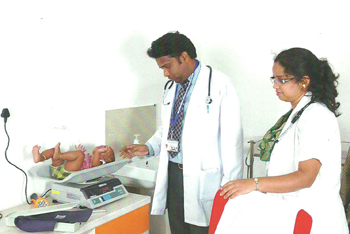 POST GRADUATE COURSES
PRE CLINICAL
MD – ANATOMY
MD – PHYSIOLOGY
MD- BIOCHEMISTRY
PARA CLINICAL
MD-PHARMACOLOGY
MD-PATHOLOGY
MD-MICROBIOLOGY
MD-FORENSIC MEDICINE
MD-COMMUNITY MEDICINE
CLINICAL DEPARTMENT
MD - GENERAL MEDICINE
MD-DERMATOLOGY, VENERELOGY AND LEPROSY
MD-PAEDIATRICS
MD-RADIO-DIAGNOSIS
MD –ANAESHTESIOLOGY
MS-GENERAL SURGERY
MS- ORTHOPEDICS
MS-OPTHALMOLOGY
MS- OTO-RHINO-LARYNGOLOGY
MS-OBSTETRICS & GYNAECOLOGY
B.SC. ALLIED HEALTH SCIENCE COURSES
1. B.Sc. Medical Laboratory Technology
2. B Sc. Operation Theatre Technology
3. B.Sc. Imaging Technology
4. B.Sc. Anaesthesiology Technology
5. B.Sc. Cardiac Care Technology
6. B.Sc. Perfusion Technology
7. B.Sc. Renal Dialysis Technology
8. B.Sc. Respiratory Care Technology
9. B.Sc. Optometry Technology
DIPLOMA IN PARAMEDICAL COURSES
Medical Lab Technology
Imaging Technology